Fire Court Judges' Table
This gate-leg oak table was used by the Fire Court at Clifford's Inn. A brass plaque fixed into the end of the table bears the inscription: 'Sir Matthew Hall [Hale] & the other Judges, sat at this Table in Cliffords Inn to determine the disputes respecting Property, which arose after the Great Fire of London AD1666. Presented by R.M.Kerr Esq. L.D. 1893.'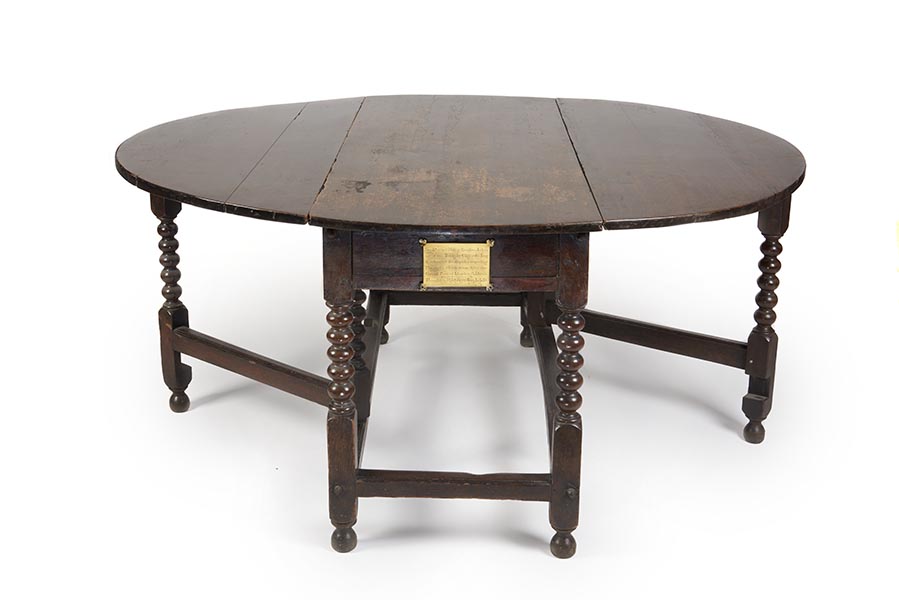 The Fire Court was set up under the Fire of London Disputes Act 1666 to deal with property disputes after the Great Fire of London. Most house rental contracts in 1666 made tenants liable to repair and rebuild in the event of damage to their houses. They also had to pay rent, even if their house was in ruins. For Londoners after the Great Fire, this was an enormous problem. However, a special Fire Court of three or more judges was set up to deal with disputes between tenants and landlords. The Fire Court decided who should rebuild, based on ability to pay, and had the power to cancel contracts. This stopped disputes from dragging on and enabled Londoners to rebuild as soon as possible.
The style of the table dates it from around 1660 to 1710 and it's likely th at the table was supplied to Clifford's Inn as a new product shortly after the fire. The Fire Court judges also ordered quill pens, parchment, ink, candles and other office supplies before they began their work. Of the 22 judges, only three were required at a time and would easily have fitted around this table.

The Court sat in Cliffords Inn and held its first session on 27 February 1667. It operated on and off until 25 February 1676. There were 24 judges, of whom 3 formed a quorum. Their names were Sir John Archer
Sir Robert Atkyns, Sir Orlando Bridgman, Sir William Ellys, Sir Heneage Finch, Sir Matthew Hale, Sir Timothy Littleton, Sir William Morton, Sir Francis North, Sir Richard Rainsford, Sir Christopher Turnor, Sir Edward Turnour, Sir Thomas Twisden, Sir Thomas Tyrrell, Sir John Vaughan, Sir William Wilde, Sir Hugh Wyndham, Sir Wadham Wyndham. Ofe these, Sir Matthew Hale was probably the most famous, andleft an enduring legacy in his writings. His picture is shown below.
Portarits of two of these judges hang in the Central Lobby of the Royal Courts of Justice in the Strand,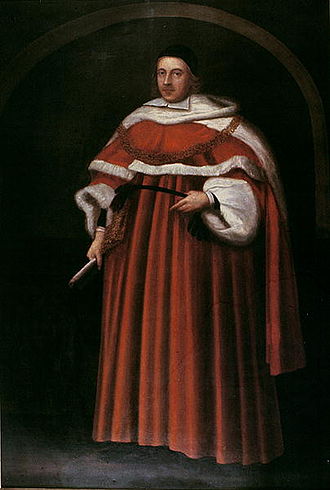 London. They are hung high on a wall, the lighting is poor, and they are difficult to see and to photograph. A notice below them reads "The portait on this wall of Sir John Archer, Kt. and on the opposite wall of Sir William Ellys, both Judges of the Common Pleas, are two of a series of portraits by Joseph Michael Wright of those judges who, after the devastation caused by the Great Fire of London devoted their engergies to evolving order out of the chaos of vanished land marks, tenancy disputes, and lost boundaries which followed the in the train of the Great Fire" It goes on to say that there were 24 portraits, initially hung in the Guildhall, then in the Art Gallery, then removed to the cellars and then sent away during the Second World War. After their return, two were hung again in the Guildhall, and the rest dispersed. These two portraits were later donated to the Royal Courts of Justice.

The images of the fire Court Table is © Museum of London and reproduced with permision